---
About Silly Sally
---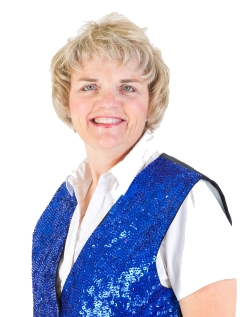 Silly Sally is really Sally Shaver DuBois from Ames, IA. Sally has been clowning around since 1997. She has two Master's degrees in education and has taught and entertained thousands of children for more than 25 years. She also teaches many classes and workshops to teachers and speaks to many other adult groups on the power of laughter on health. Learn more at Do Life Well.
Sally married her husband, Paul DuBois, in 2012. Paul performs as "Strummin' Man" with Sally in their many YouTube videos together. Visit Silly Sally's YouTube page
In addition to Sally's clown entertainment, she is also a professionally trained musician and has played and sung in numerous groups since she was in elementary school. She can be seen playing the drums or singing her favorite songs at church or out in the community. Sally released her first children's CD in 2002, "Silly Sally on the Go. Her video, "Fun With Silly Sally" was released in 2003 and another album was released in 2009 entitled, "Get Moving and Singing With Silly Sally." Purchase or learn more about Sally's music and videos at Silly Sally Productions.
---
Email Silly Sally Phone (515)‑232‑5050 Ames, Iowa USA